Ridge and chute channels (cross-bar channels)
Position: In-channel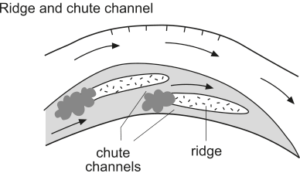 Form
Ridge
Linear, elongate deposit formed atop a bar platform on a mid-channel or bank-attached bar. May be curved or relatively straight. Deposits tend to fine down-ridge. May be formed downstream of vegetation or other obstructions on the bar surface.
Chute channel
Elongate, relatively straight channel that dissects a bar surface. Usually initiated at the head of the bar. Commonly found on bank-attached, mid-channel bars and islands, where they form compound features.
Process description
Ridge
Ridge morphology and alignment atop bar surfaces reflect the character of channel adjustment over the bar at high flow stages. Vegetation promotes ridge development with sediment being deposited in the wake.
Chute channel
Chute channel: Develop as water flows over a formerly emergent bar surface. Scour occurs during the rising stage of over-bar flows. If the bar is short circuited, flow energy is concentrated, inducing scour that reworks the bars and forms a chute channel.